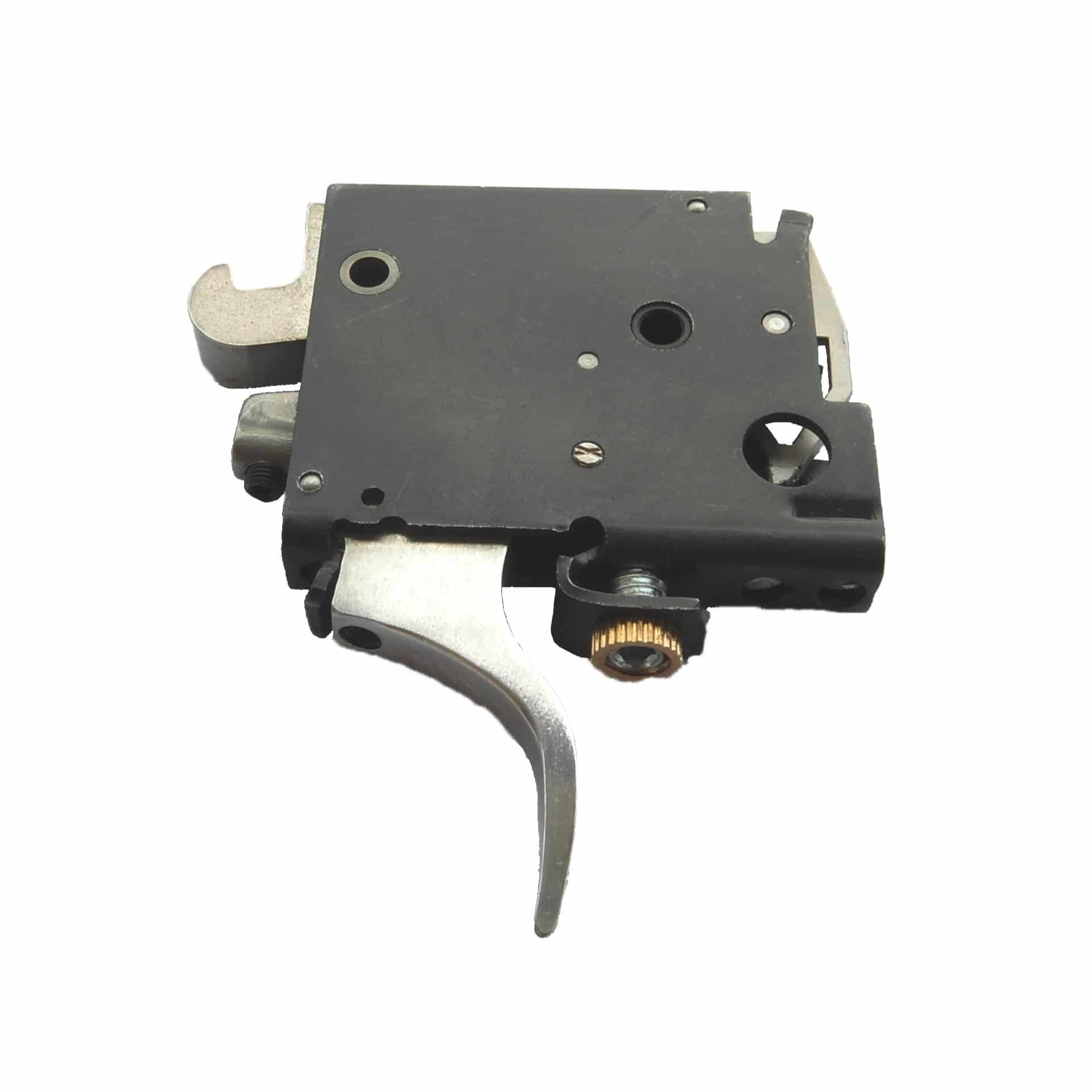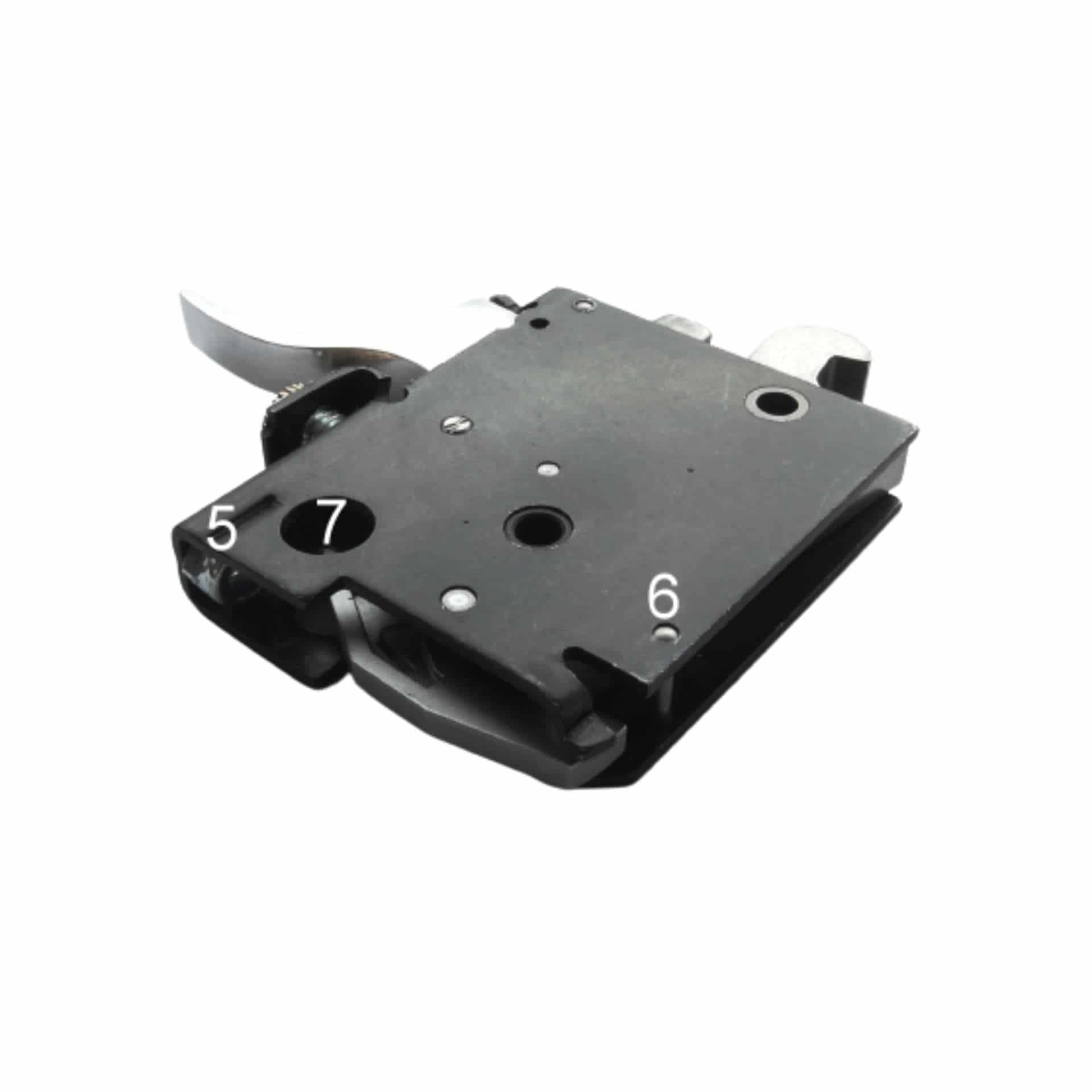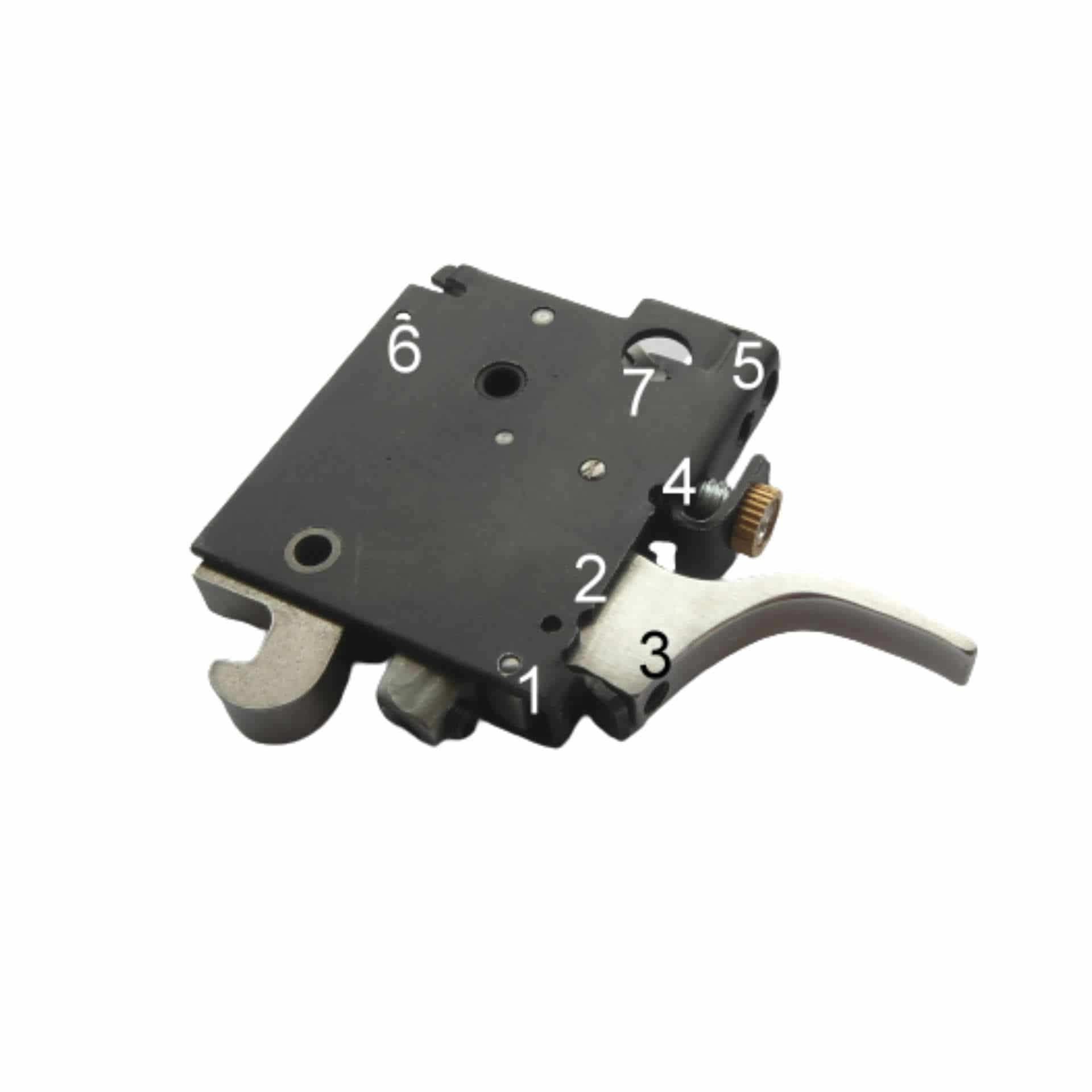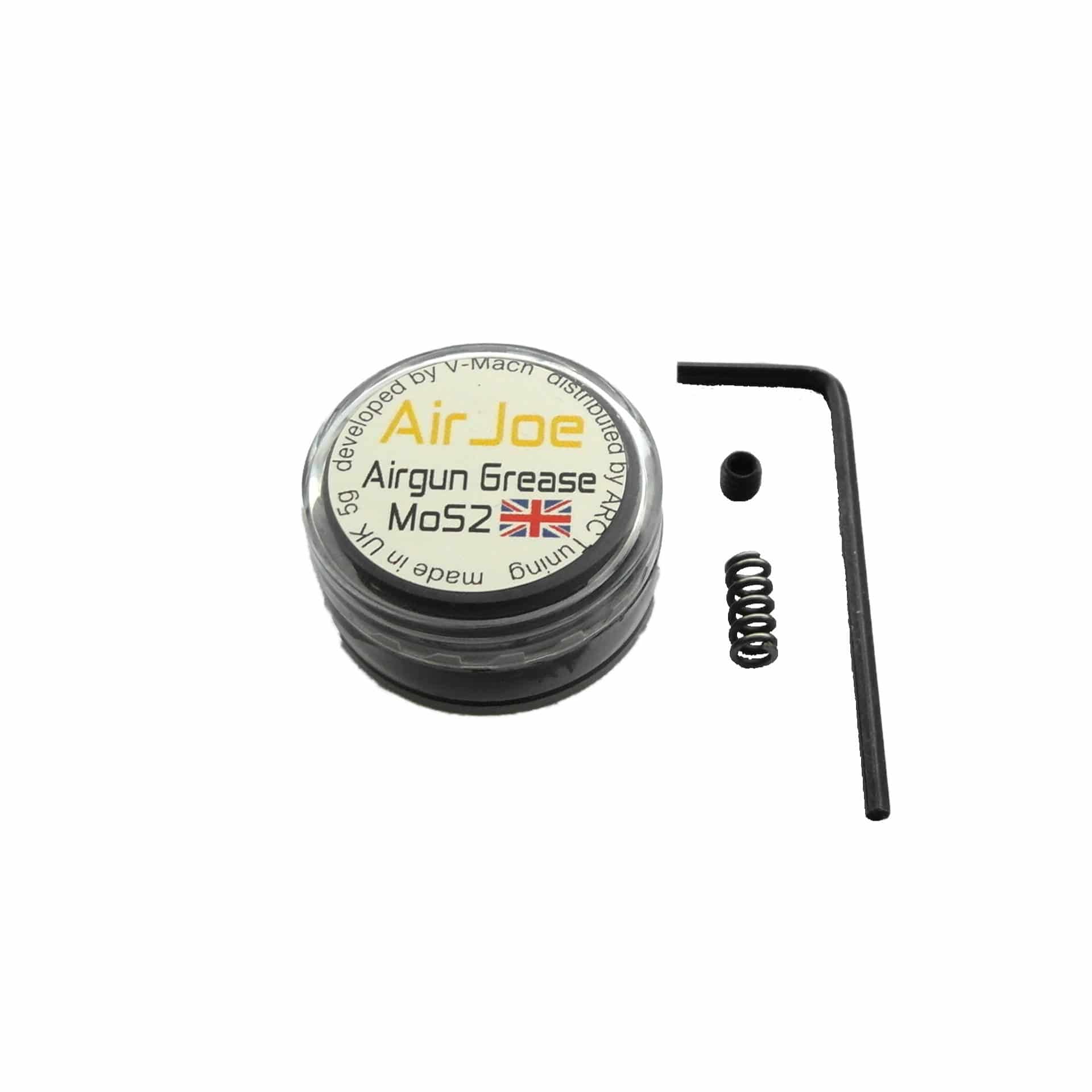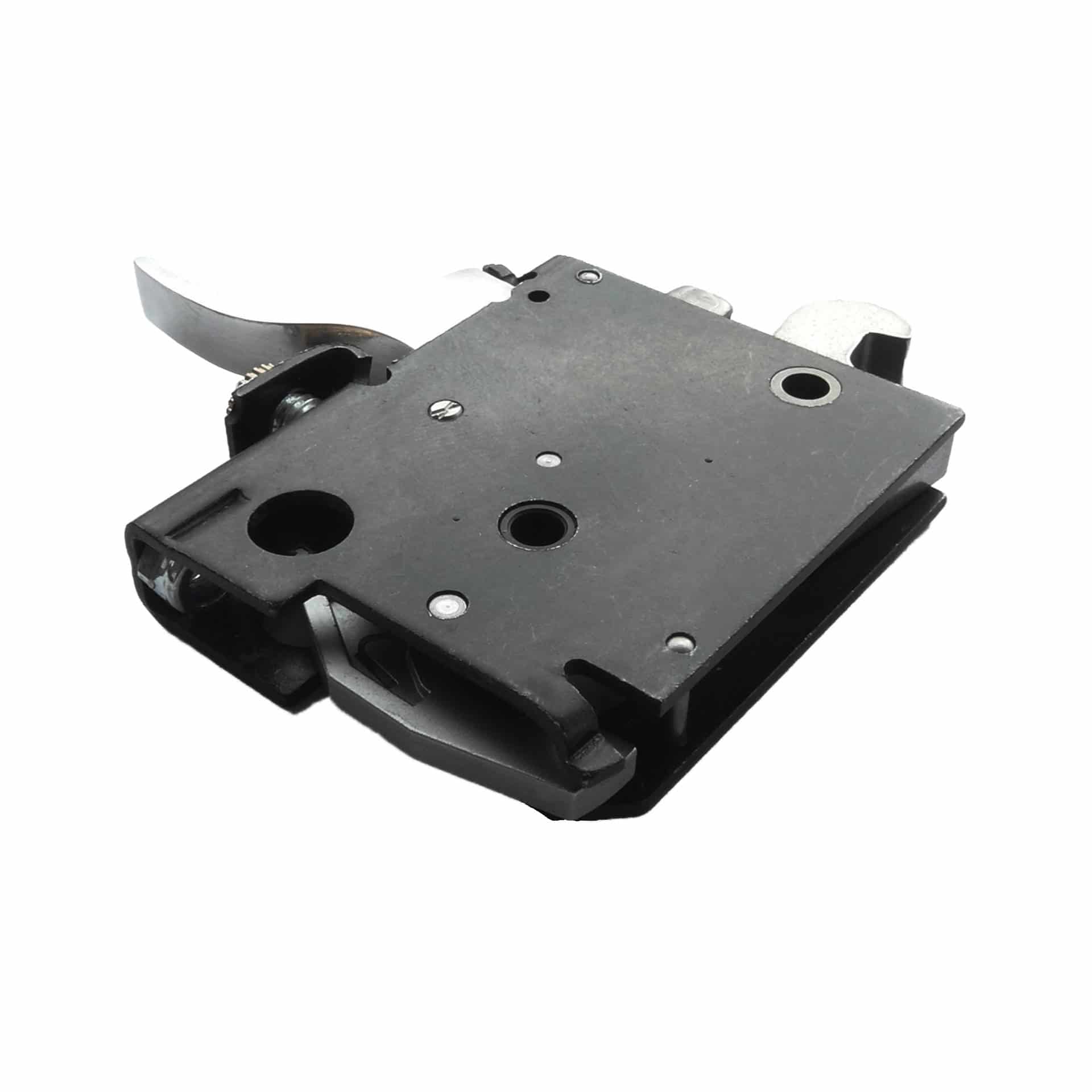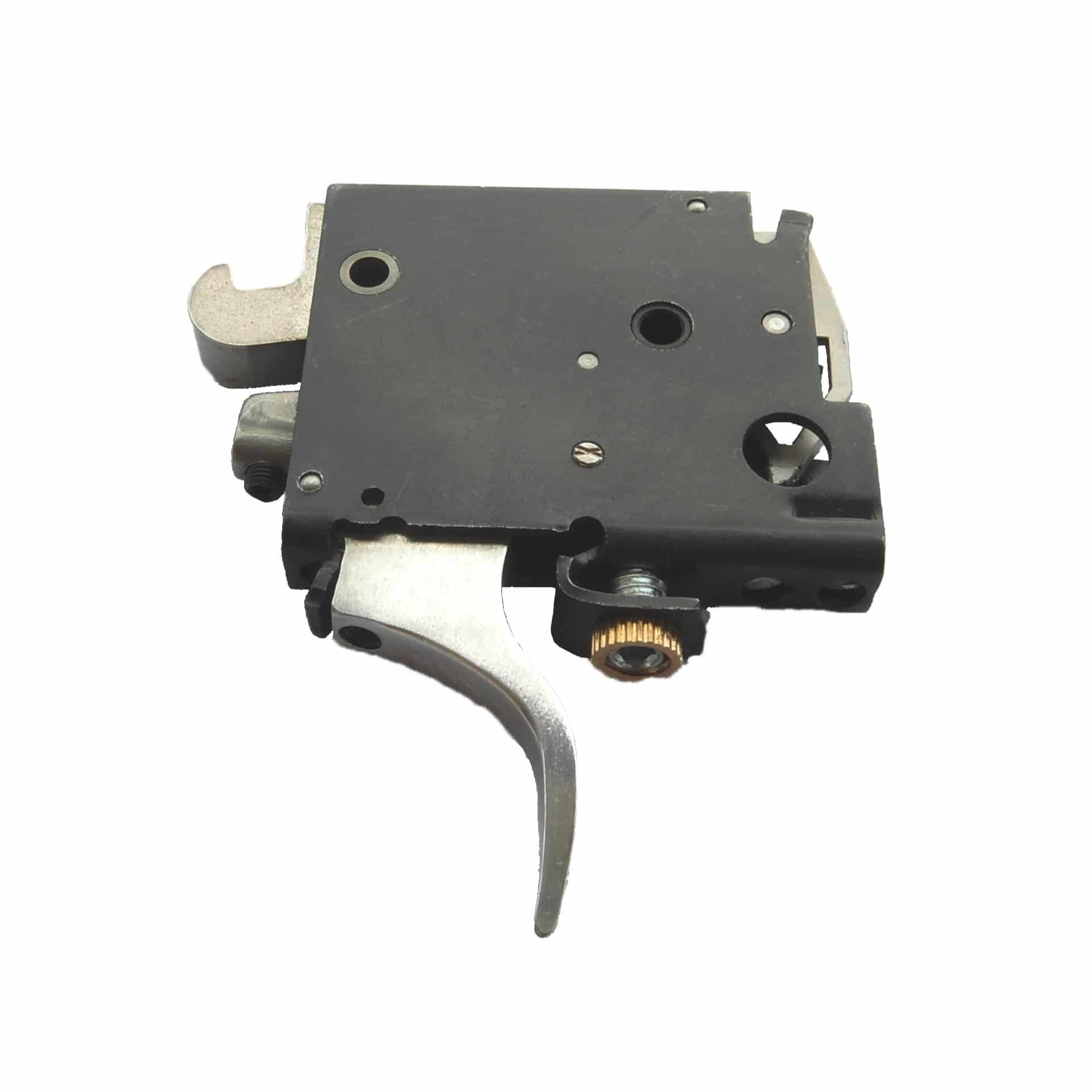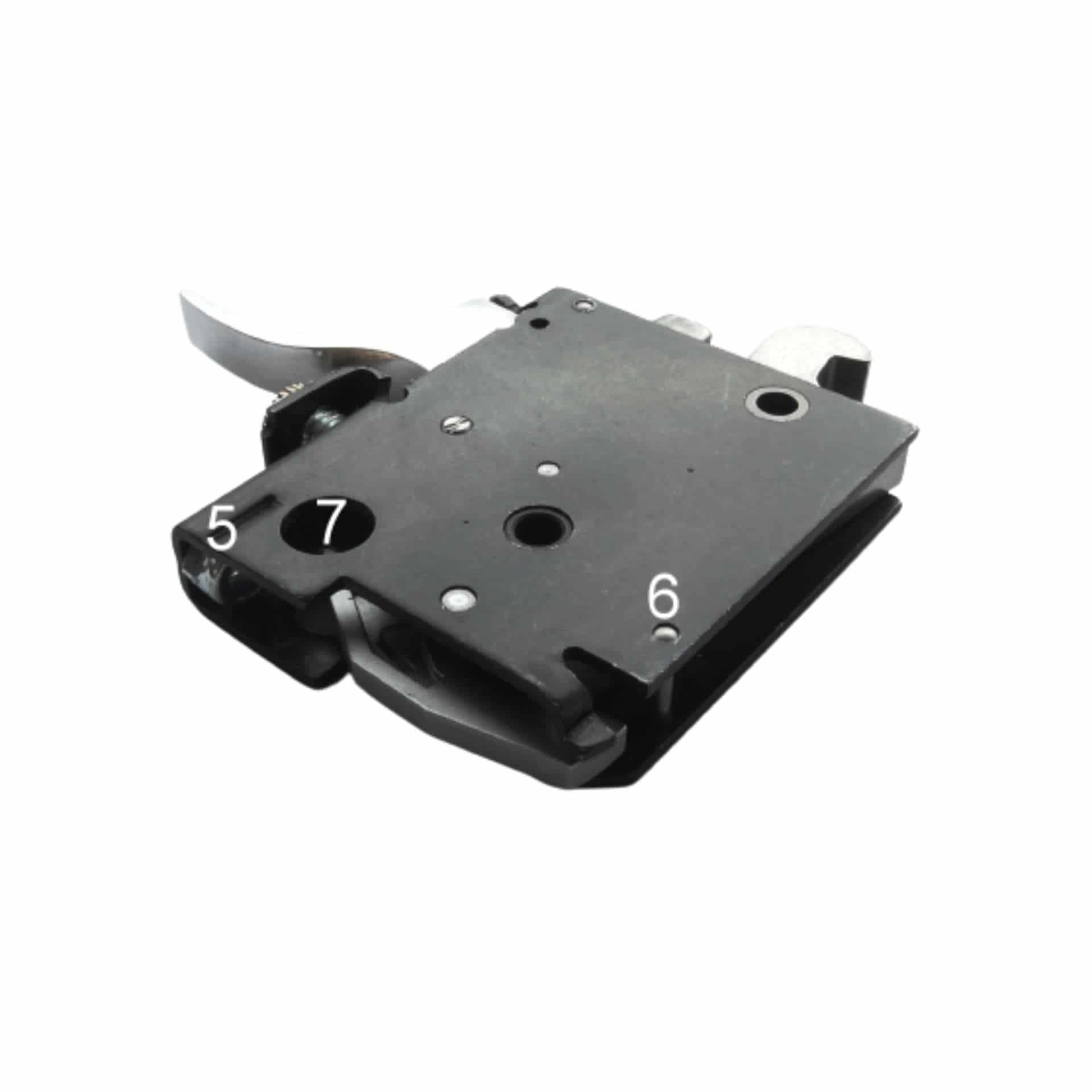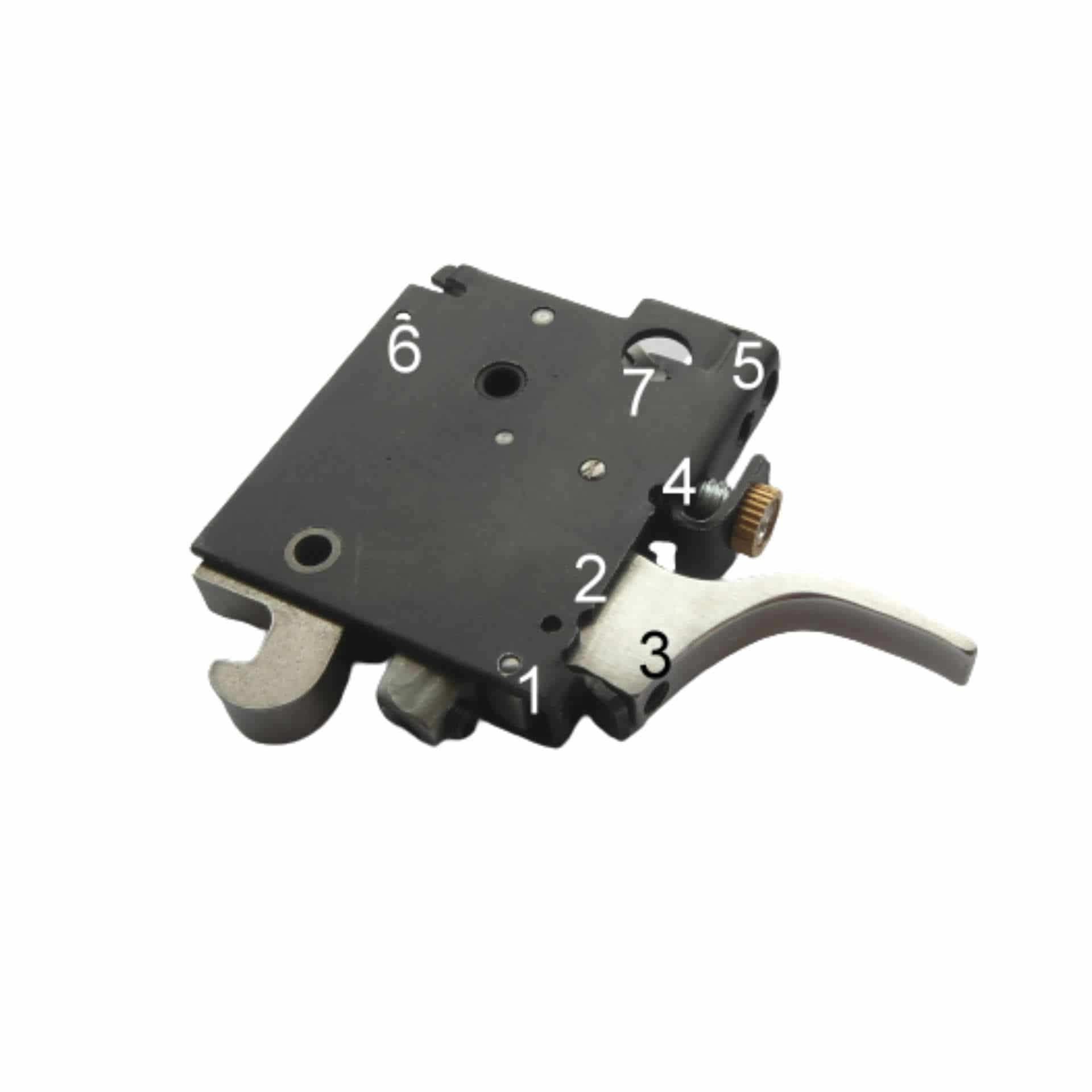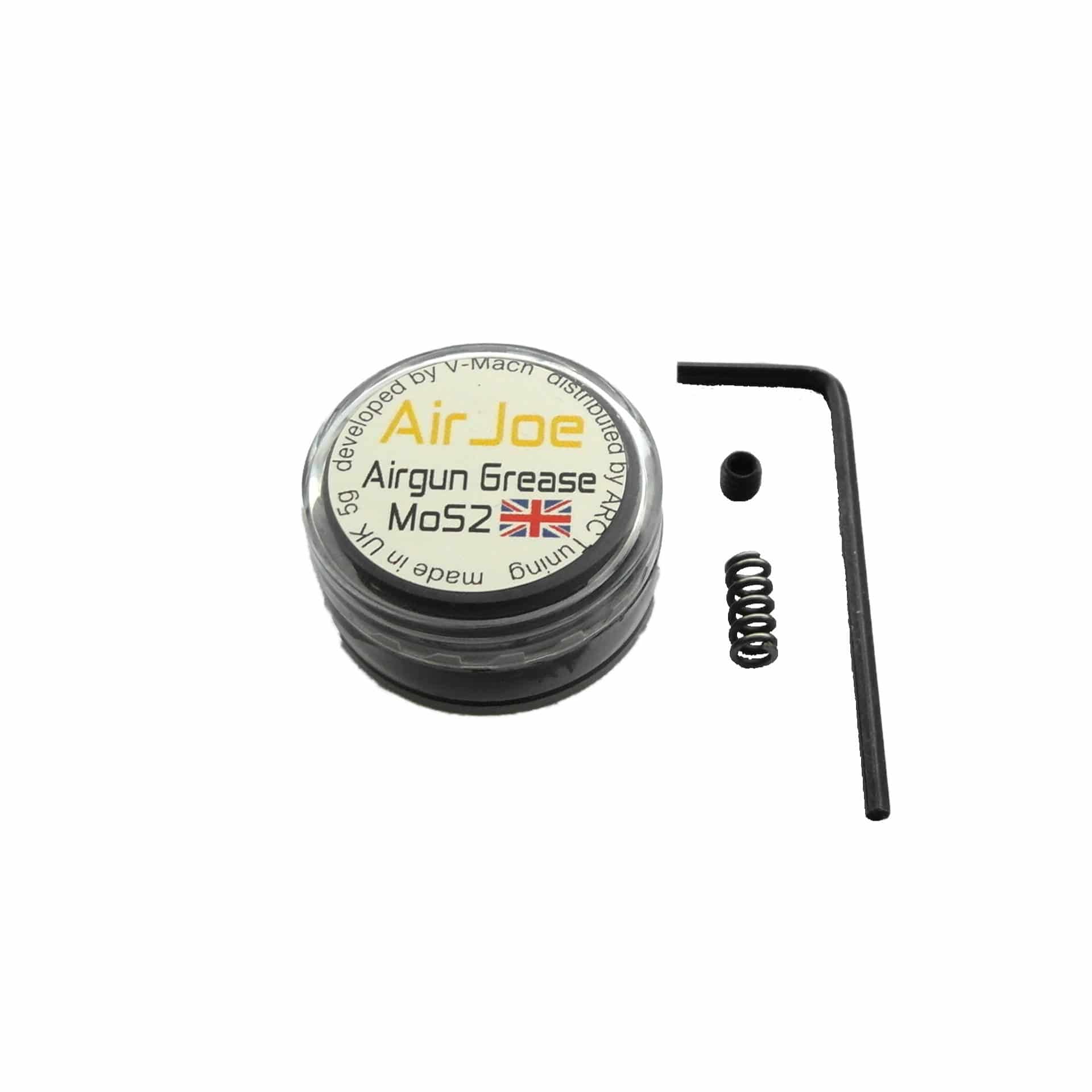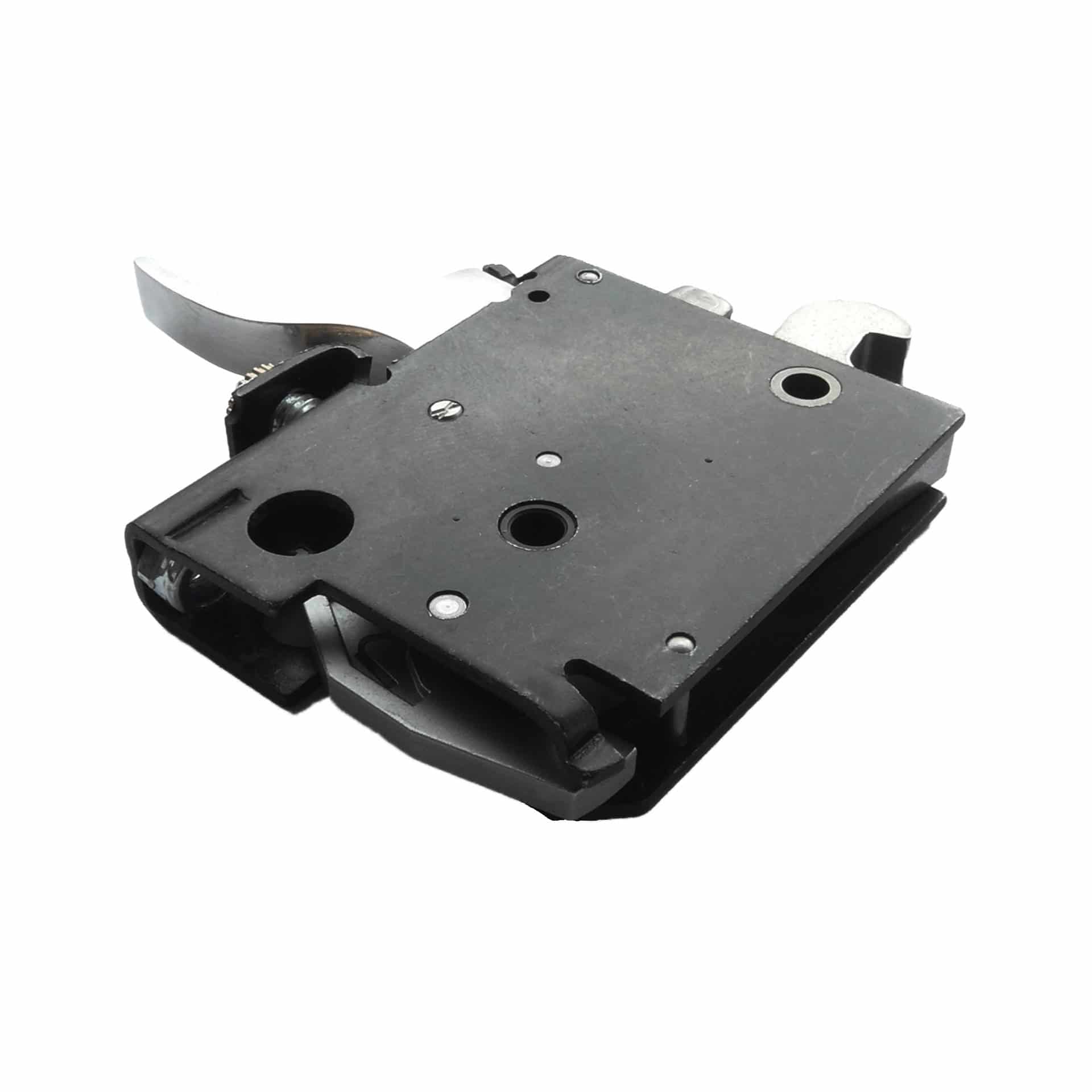 Shipping until , if you place your order within the next .
Manufacturernumber:
302502
Product information "Tuning Trigger Aluminum Weihrauch Rekord - AirJoe Premium"
AirJoe Tuning Trigger Premium Aluminum Weihrauch Rekord
>> For Weihrauch models with Match trigger except HW 77 & HW 97 <<
>> For HW 77 & HW 97 use 302616 <<
Weihrauch's trigger Rekord has been one of the best triggers on the market for decades. It's match-like, robust and reliable. Quality made in Germany, which is also internationally recognized.
Many Weihrauch stocks have a flat grip angle due to their hunting style. This may cause shooters to have a tense hand position. Therefore, the trigger has been redesigned and equipped with a maximally recessed trigger blade. This optimizes the contact of the trigger finger with the trigger blade and results in more comfortable shooting.
The trigger for pros
In addition, the pivot point of the trigger blade has been moved forward. This has a positive effect on the trigger performance. The trigger weight has been reduced from approx. 600g to below 200g and can be finely adjusted via the shortened rear set screw which has a softer spring.
The first stage can be precisely adjusted by means of an additional hexagon socket screw. The rear nut in the trigger box has been secured against falling out. Another rivet pin, which is similar to the earlier models, facilitates installation. The pawls were carefully lubricated with V-Mach grease to minimize pawl friction. The surface of the trigger blade is finely smoothed, the edges chamfered and the grip surface polished.
The trigger is precisely preset, first stage and point of release are perfectly adapted.
Overview of all changes (see illustrations)
pivot point moved forward

setback aluminum trigger blade
adjustable first stage
shortened trigger screw, softer spring
secured nut
additional rivet pin
preset and greased
You may purchase this trigger from us and also use it in Germany. According to German law, the installation may only be carried out by a gunsmith. When installed under tension, the trigger reacts differently than when delivered. Adjustment work may be required after installation. The trigger should therefore only be used by experienced shooters.
Scope of delivery:
AirJoe trigger Rekord
original Weihrauch trigger spring
5g V-Mach grease
hex key
spare setscrew
Videos
---
Freitagnachmittag habe ich mir den Tuning Abzug für meine Weihrauch HW77 bestellt, Dienstagvormittag wurde er geliefert. Von der Ungeduld getrieben, habe ich den Abzug schnell in meiner HW 30 verbaut, 3 Schrauben, 2 Bolzen, Abzug raus, Tuning Abzug rein, läßt sich schneller wechseln wie bei der HW 77. Der Abzug zieht sich weich und sehr angenehm, bricht glasklar. Die Streukreise sind bedeutend kleiner geworden. Zum direkten Vergleich habe ich noch die FWB 300 S und die HW 77 aus dem Schrank geholt. Er kommt dem Matchabzug der FWB 300 S sehr nahe, vielleicht liegt der gefühlte Unterschied, dass der Abzug der Feinwerkbau einen µ besser ist daran, dass das System der FWB den Prellschlag ,,wegschluckt". Im Vergleich zum normalen Rekord Abzug der Weihrauch liegen Welten. Absolut Empfehlenswert.
Über die Qualität und das Abzugsgewicht schließe ich mich den anderen Schreibern hier an, einfach unglaublich was aus dem Rekord Abzug rausgeholt wird. Bei meiner HW97KT hat sich das Schießgefühl komplett verändert, jeder Euro war es wert. Und ich würde ungern den Standard Rekord wieder einbauen ?. Abzulut zu empfehlen, es verwandelt gefühlt das Gewehr.
Tolles Produkt und toller Service! Am Anfang gab es Probleme bei meinem Gewehr HW77 K. Ich habe kurz die Firma informiert und man hat sofort darauf reagiert. Der Abzug wurde präzise angepasst und jetzt funktioniert es super. Der Abzug ist einfach unglaublich gut, sodass ich den Originalen Abzug von Weihrauch nie mehr nutzen möchte.
was soll man zu perfekt noch schreiben… Für mich ist er jeden Cent wert! Nach dem Einbau des AirJoe Tunig Kit war der Abzug dran. Durch das Tuning ist die HW30 so präzise wie meine HW100 BP Carbine! Beide sind jetzt wohl besser als ich ? Da für mich die Präzision sehr wichtig ist- war es die richtige Wahl! Spaß total!
Für faule Menschen wie mich, ist der Abzug perfekt geeignet um seine Schussergebnisse schnell zu verbessern. Meine Frau hat den Abzug ihres HW77k Field Target Gewehrs komplett zerlegt, die Klinken geschliffen, poliert und die Abzugsgewichte angepasst und ist ebenfalls auf einen trockenen Abzug mit knapp 100 Gramm gekommen. Kann man machen, oder man kauft den AirJoe Abzug bei dem all das schon gemacht wurde. Einbau ist in ein paar Minuten erledigt und der Unterschied zum Werksabzug ist schon erheblich. Laut Angaben in der Verpackung wurde der Abzug mit 163 Gramm bei 16,3 Joule eingemessen, in meinem Klasse 4 Gewehr sind wir bei 105 Gramm. Der Vorweg ist definiert, der Druckpunkt ist wie bei einem Matchgewehr und das bei einem Springer.