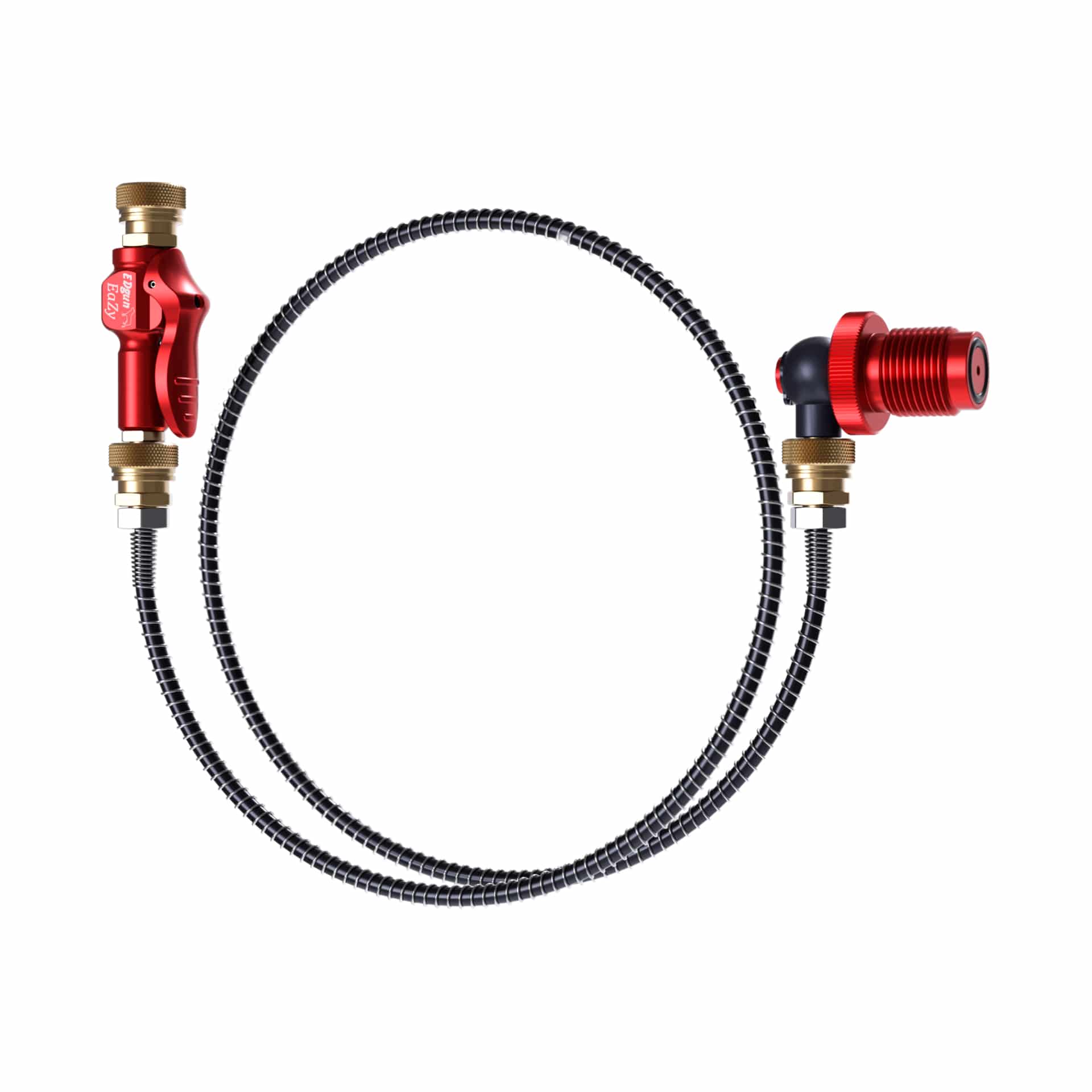 Available, delivery time 2-5 working days
Manufacturernumber:
302495
Product information "Eazy Fill filling station Foster Female connection"
Revolutionary Eazy filling system - Filling your PCP has now become much easier thanks to Edgun: The filling process has now become much faster and less air is wasted! This revolutionary design does not work exclusively with Edgun air rifles.
The most important points:
No wasted air
Super Silent (no need to vent the hose)
Super fast
No need to regulate the flow with the tank valve
Universal (usable with every air pressure weapon brand)
Lightweight
Made from high -quality materials
1x foster female connection
1x bottle plug
50cm hose
---
Eazy Fill Füllstation - der Ferarri unter den Füllschläuchen
Vorab möchte ich mich bedanken für die Freundlichkeit und Schnelligkeit der ganzen Abwicklung bei Jabolo. Als Michaela Voll von Buchhaltung sich mit sonnigen Grüßen aus Unterfranken gemeldet hat, sah ich wie hoch engagiert das ganze Team von Jabolo.de ist. Überaus erfreulich das man über jeden einzelnen Schritt benachrichtigt wird. Ja, unser rastloser Andy/AirGhandi/Andreas zeigt uns jede Woche stets hoch interessantes und wir alle profitieren davon. Da ich leider aus Österreich komme kommt eine EDgun Leshiy 2 wegen dem Schalli leider nicht in Frage. Wenngleich ich sehr gerne eine in 4,5 und 5,5 mm hätte, da sie derart innovativ sind. Auch eine ANSCHÜTZ 9015 Sniper Alu würde ich nur all zu gerne in meinem Besitz haben. Was allerdings Presslüfter an sich haben, sie knallen und meine Nachbarn würden sich verständlicherweise aufregen. Ein Schalldämpfer würde dies alles ungemein vereinfachen, aber wie gesagt die sind in A verboten. Dafür bekommt man in A eine 40 Joule Air Gun ohne WBK. Ironie off…. So, aber nun zur eigentlichen Rezension: Warum habe ich mir also die Eazy Fill Füllstation gekauft? Nun denn, wer ein System hat welches mit 300Bar betrieben wird - also wie die z.B. die Leshiy 2, Huben, Walther 1250 Dominator, Zboria Kozak usw. könnte es ohne dieser betreiben. Jedoch so innovativ die Leshiy 2 ist, so ist auch die Füllstation. Unser guter Andy stellte sie uns ja ein paar Mal vor. Der lange sehr solide Schlauch, die Wertigkeit der ganzen Verarbeitung, das präzise Gewinde, die Entlüftung die erst am Ende eines Schießtages von Nöten ist - das und einiges mehr macht sie wahrlich einzigartig. Wer eine Weihrauch, Steyr Pro, Diana Skyhawk, Kral Arms, Norica Dark Bull Bullpup - die alle mit einem Quick Fill Anschluss versehen sind und diese Modelle zwischen 200 und 250 Bar liegen, profitierten definitiv von der Eazy Fill Füllstation. Weil wie schön es in der Beschreibung steht: "Keine Notwendigkeit, den Durchfluss mit dem Tankventil zu regulieren". Und genau das war für mich persönlich der Anlass des Kaufes. Vor einem Jahr hätte ich womöglich daran nicht gedacht, aber ein Bandscheibenvorfall zeigte leidig auf das das es mit Pumpen, oder meiner 10 KG 300Bar Tauchflasche nun gar nicht mehr geht. Daher kaufte ich mir eine 5 KG 300Bar Pressluftflasche. Der feine, aber wesentliche Unterschied ist das Handrad einer Tauschflasche, ganz im Gegensatz zum Handrad der bekannten grünen Pressluftflasche mit dem Tragegriff- Konnte ich bei meiner 10 KG Tauchflasche das Handrad mit ein etwas Gefühl öffnen (vom Öffnen bis zum sichtbaren Luftaustritt lag gut einen Zentimeter Drehung) und dabei konnte mit ruhigem Gewissen zusehen wie sich die Kartusche mit 200Bar langsam füllte. Das Handrad der 5 KG Pressluftflasche hingegen hat fast bis gar kein Spiel. Was so viel heißt, drehe das metallene Handrad nur zwei Millimeter auf strömen 300Bar Druck durch das Ventil/Schlauch. Bin wahrlich kein Grobmotoriker, dennoch stand mir immer der Schweiß auf der Stirn, wenn ich meine HW44 füllen wollte. Dachte mir vielleicht habe ich ein fehlerhaftes Handrad? Nein, las im Internet, dass Handräder von Pressluft vs. Tauchflaschen vom Aufbau unterschiedlich aufgebaut sind. (Unterschiede sind primär bei der Gleitscheibe und beim Mitnehmer.) Behalf mich inzwischen so dass ich das Handrad öffnete und mit ein wenig Druck auf dem Schlauch den Quick Fill Anschluss in die Kartusche führte. Doch der wenige Druck reichte nicht um auf die 200 Bar zukommen. Mehr aufzudrehen traute ich mich nicht, da mit 300Bar Grundsätzlich nicht zu spielen ist und der Berstdruck der Kartusche ja auch begrenzt ist. So konnte es nicht weitergehen! Jetzt mit der Eazy Fill Füllstation, wo wie bereits oben und in der Beschreibung geschrieben steht - keine Notwendigkeit den Durchfluss mit dem Tankventil zu regulieren - und der geniale Wippschalter welchen man innerhalb einer halben Sekunde mit dem Daumen loslassen kann, kann ich nun lächelnd die 5 KG Pressluftflasche voll aufdrehen, meine HW44 füllen und dabei mit dem zuvor gewohnten sicheren Gefühl zusehen wie 200Bar sich langsam füllen. Es spielt auch überhaupt keine Rolle ob man den roten Wippschalter halb, oder ganz durchdrückt - die Luft strömt so oder so gleichmäßig durch die Eazy Fill Füllstation. Danach das Handrad schließen, den roten Wippschalter zudrücken bis die Luft aus dem Schlauch entwichen ist. Wer eine Weihrauch hat, sollte wie Andy auf Jabolo rät unbedingt den 1/8" Dichtungsring dazunehmen. Ich möchte die Eazy Fill Füllstation nie mehr missen. Wünsche alle Schützen und Schützinnen gut Schuss und wie Andy immer fürsorglich betont - bitte stets mit Schutzbrille.
Unglaublich - 5 Sekunden....
Ich habe lange gehadert mir den EazyFill Adapter mit Schlauch und eine Flasche zu holen. Insbesondere den Eazy Fill, aberd das war die beste Anschaffung bzgl. Befüllen der Gewehre die ich machen konnte. Zwar dauert die Befüllung der 3-Liter-Flasche mit meinem Vevor-Kompressor (350,-) knapp 50 Minuten, aber die Gewehre lade ich danach von 100 auf 300 Bar bei der FX Tactical in 5 Sekunden auf, gleiches auch bei der HP Max, nur bei der Leshiy 2 komme ich nur auf 250 Bar. Das scheint da aber so zu sein und ist auch egal, das Nachfüllen geht ja unter 5 Sekunden. Ich kann das jedem nur empfehlen, Dazu noch einen Tragegurt und eine Gummikappe zum hinstellen und man hat den ganzen Tag Spaß ;-).